Coil Feeders
Base machine for low-cost automation
Cost performance possibilities recommended by a forming system builder.
Reliable and Proven Next-Generation Straightener Feeders Recommended by A Press Manufacturer. LFM series are full-featured standard model with superior Operability.
A motorized coil hold-down roll and an opener are standard.
A best-selling straightener feeder model that provides superior frame rigidity.
An easy to operate, high performance machine.
AIDA's wealth of coil feeder experience in leveraged to achive high reliability.
Many choices are available to achive the optimal line for a variety of coil material.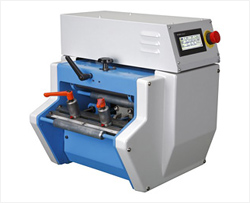 Total integration with the press for a high-performance line
The F-IIISeries controls automatically calculate acceleration.
Achieving high cost-performance automation.
The L-Series specification has 13 work rolls