Transfer Equipment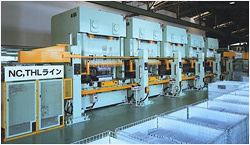 The two-axis servo drive provides a simple, yet highly versatile line offering low-shock high-speed transfer.
Shorter overall line length saves factory floorspace.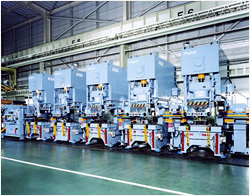 With its variable-lift stroke and its line segmentation feature,this flexible line can produce two products simultaneously.
Line segmentation,corner floorspace utilization, and feed direction changes are possible.
This space-saving line allows the production of small products involving3~6processes on a single press.
Ideal for the one-on-one combination of press and robot.
Advanced motion control enables stable high-speed transferring.
Equipped with a highly responsive 5-axis servo motor control.