Mid-Size and Large Servo Presses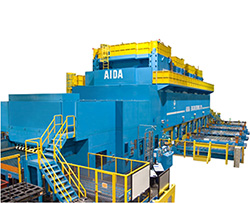 Cutting-edge systems that are leading the way to new forming possibilities for automotive body components.
Servo tandem lines that achieve the highest class of productivity in the world.
Enables synchronization between the pendulum motion of servo presses and transfer feeders. Bringing innovation to the forming of automotive frame components.
Greatly improves productivity when forming automotive frame panels (using high-strength steels).
"High-Performance Servo Progressive Press Systems" with built-in high-performance auto-calculation systems.
Reduces the time spent outside of the actual forming window. A system with advanced functionality that enables the pursuit of production optimization to its very limits.
Combining UL Series ultimate high-precision forming machines with servo technology.
It provides even higher precision for parts that are sensitive to the effects of forming speed variations.