Transfer Equipment

AIDA Linepacer NCTHL Series

The two-axis servo drive provides a simple, yet highly versatile line offering low-shock high-speed transfer.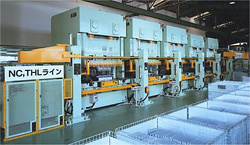 Shorter overall line length saves factory floorspace.
Direct transfer can reduce equipment costs versus systems that station multiple robots between presses.
Given a broad range of conveying strokes available in one line, multi-stage procession can also possible.
Capacity Range
Lines are available in feed lengths of 1500 and 3000 mm. Extensive peripheral devices such as blank or coil feed units and intermediate stages are also available.
Model
Conveyance Type
Drive Type
Feed Stroke※1
Lift Stroke
Total Conveyance Weight(Max)
(Work+Clamp)
Number of Presses in Line
Cycle Time
Clamp Method
(mm)
(mm)
(kg)
(units)
(sec)
NCTHL-150/10
Feedbar type
Feed-lift 2-axis servo motor type
700~900
20~60※2
3.0
6※3
2.0~2.1
Vacuum or magnetic
1000~1200
3.5
2.2~2.5
1300~1500
4.0
2.6~2.9
NCTHL-300/10
Carrier type
Feed-lift 2-axis servo motor type
1600~1800
20~60※2
4.5
3.0~3.2
Vacuum or magnetic
1900~2400
5.0
6
3.3~3.7
2500~3000
6.0
3.7~3.8
※1

Feed stroke selections are fixed.

※2

The lift stroke can be adjusted in 0.1 mm increments.

※3

Up to 8 presses in the case of direct conveyance.
---