Outline
A Leading 'Forming Systems Builder' Company
Leading the Industry as a Press-Centric 'Forming Systems Builder'
Press forming technologies are used to manufacture many of the wide arrays of manufactured products in our lives. It would be no exaggeration to say that there are almost certain to be products around us in our everyday lives that have been manufactured using AIDA forming systems - including automobiles, home appliances such as televisions, refrigerators, air conditioners, and washing machines, and computers or cell phones.
A Forming Systems Builder
AIDA has been developing and manufacturing forming systems for over 100 years, specializing in metalforming products ranging from custom-built and general-purpose presses to automation (automatic transfer equipment and feeders for presses and industrial robots).
Moreover, we do not just manufacture machines, we also provide comprehensive forming system packages—ranging from product material research and the development of forming methodologies and systems to post-installation service support. We recommend the optimal solutions to meet the forming requirements of our customers and achieve high value-added content.
The designation 'Forming Systems Builder' also conveys our mindset of being willing to stake everything on our manufacturing capabilities.
Having gained the confidence of many customers who are active in the automotive, appliance, and electronics markets worldwide, we are proud to be the second largest dedicated press manufacturer in the world in terms of sales turnover.
Presses
AIDA has a wide array of products to meet every need.
In recent years AIDA has developed revolutionary strategic product types, including direct-drive servo presses equipped with servo motors and electrical controls that have been developed in-house and the ultimate high-precision UL Series of presses that are more accurate than the dies used in them, and AIDA also enjoys a large market share for the high-speed presses that are essential for the manufacturing of motor cores for hybrid vehicles.
Click here to see our primary products.
A Wide Array of Automation Equipment
AIDA develops and manufactures the necessary press automation equipment, such as feeder equipment, transfer robots, and product removal systems, etc. Using automation from AIDA makes it easy to synchronize the equipment with the press.
Click here to see our primary products.

Die Design and Forming Method Development
Through our pursuit of new metalforming possibilities--researching new materials, developing forming technologies, performing process studies, and designing and manufacturing dies, etc.--we are able to recommend even higher value-added solutions to our customers.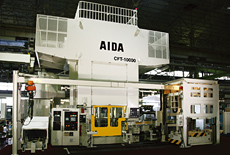 Service: We Provide High-Quality Products and Full Post-Installation Service Support
AIDA not only supplies products, we also provide our customers with total support services such as logistics, installation, preventive maintenance, and spare parts. We also offer total support ranging from overhauls to retrofit services, where we upgrade and modify old machines with the latest technologies. With experienced engineers and a global service network, we are providing reliable support services to domestic as well as overseas customers.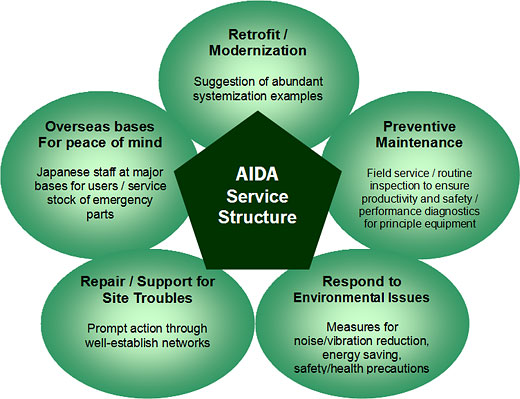 Demand and Future Potential
Increasing Demand Accompanying the Evolution of Final Consumer Products
There is a global shift in the automotive industry towards even lighter and stronger metal materials that will reduce energy consumption (improved mileage) and improve safety. The manufacturers of home appliances and electronic equipment have also been showing a change in their preferences, moving from petroleum-derived plastic materials to recyclable metal materials. Both industries will need to be able to accommodate new materials, and thus they are also seeking cutting-edge high-quality press metalforming technologies.