Corporate Philosophy AIDA'S VISION
"AIDA will grow as a forming systems builder and continue its contribution to people and community."
An octahedron, stably balanced in each direction, represents the corporate vision of the AIDA Group.
The upper pyramid represents the future of the Company: software/hardware technological innovations that achieve customer satisfaction.
The lower pyramid represents the human wisdom and drive that support these future innovations.
These two pyramids are connected by human resources, showing that we contribute to and are devoted to people and community.
AIDA OCTAHEDRON PHILOSOPHY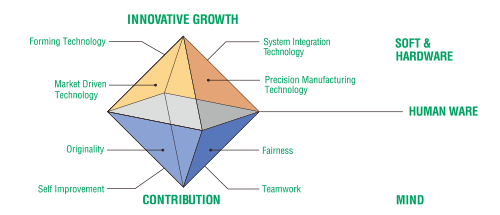 AIDA ENGINEERING, LTD. intends to make every possible effort to reach out on a global scale to all regional societies and peoples and create a name for ourselves as a technological innovator in the metalforming field guided by the vision of our management.