Top Message
TO OUR SHAREHOLDERS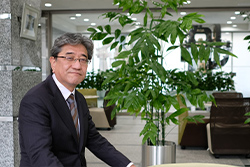 The AIDA ENGINEERING's corporate philosophy is "We will grow as a forming systems builder and continue its contribution to people and community."
The automotive-related industry accounts for two-thirds of our sales and another quarter of our sales are from the consumer electronics and electronics components industry. Products from both of these industries are available at prices affordable to ordinary consumers because of the cost reductions made possible by mass production. Press processing is vital to the mass production of such consumer goods.
And because press processing generates almost no waste (scrap) and consumes little electricity, it is fundamentally an environmentally friendly process that uses minimal resources and conserves energy. Amid the current growing focus on corporate social responsibility, our company's business intrinsically serves to promote this, and growing our business leads to contributions to community at large.
To maximize earnings for all stakeholders - including shareholders, investors, customers, business partners, as well as the employees and families of the AIDA ENGINEERING Group - we will continue to develop upon our foundation as a "forming systems builder," with the goal of achieving sustainable growth over the medium to long term. I would like to express my heartfelt appreciation for your continued support of AIDA ENGINEERING.