Line Synchronization Control Technologies
Tandem Lines
High-speed systems for controlling the synchronization of an entire press line.
Tandem lines improve cycle times by synchronizing the motions of the presses and transfers and by enabling differentically-phased operation of the presses in the line.
Mechanical Lines
Progressive Lines
Lines where two presses are synchronized to run progressive applications._
Because the presses have different stroke lengths, their operation is synchronized by matching the timing when the presses pass through bottom dead center.
Transfer Lines
Transfers are used to shuttle material between 2 presses to achieve continuous operation synchronization at speeds up to 33 min-1.
It is also possible to operate each press independently.
Robot Lines Consisting of a Combination of Press Models
A production system where the motions of 5 presses are synchronized. It is also possible to split the line into two separate synchronized 2-press and 3-press lines.
| | |
| --- | --- |
| Press Models | NC1-2500 x 3 + K1-2500 + S1-3000 |
| SPM (min-1) | 30 |
| Max. Coil Width (mm) | 250 |
Servo Lines
Servo Tandem Lines
When using servo presses, the slide positions of each press can precisely controlled at high speed throughout the entire stroke. In contrast to a conventional press line where the slide motion of each press and the blank transfer motion of each press is almost constant, each parameter can be optimized in order to leverage the maximum formability characteristics of the press, the maximum flexibility of the transfer equipment, and the maximum transfer speed. AIDA has enabled the world's highest productivity level (max. 18 SPM) for deep-drawn automotive body panels.
| | |
| --- | --- |
| Press Models | DSF-S4-23000 + 12000 x 2 + 10000 |
| Area (mm) | 4500 x 2200mm |
| SPM (min-1) | 18 |
| Maximum Blank Size (mm) | 4000 x 1900 |
Compact High-Speed Servo Tandem Lines
A tandem line is achieved by using a general-purpose servo press at each stage and linking these presses using AIDA high-speed transfer robots. Equipped with a predictive function that avoids interference between the timing of the press slide and robot transfer motions, it enables synchronization of the entire line without slowing the line speed, thereby achieving productivity that is even equivalent to that of a large transfer press.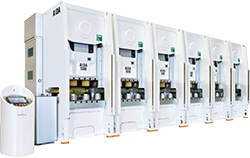 | | |
| --- | --- |
| Press Models | DSF-N1-2000 x 7 |
| Area (mm) | 1000 x 650 |
| SPM (min-1) | Maximu Line Speed: 30 |
| Maximum Blank Size (mm) | Approx. Ø350 |
Transfer Lines
Servo Lines
AIDA was the first company in the world to successfully synchronize transfer systems with the pendulum motion feature of a servo press. When automotive frame members (made of high-strength steels) are formed using a 3000-ton press, it boosts productivity approximately 150% in comparison to a conventional press.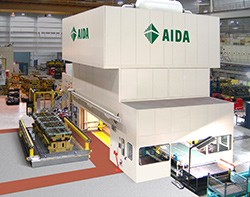 | | |
| --- | --- |
| Press Models | DSF-T4-30000-625-250 |
| Area (mm) | 6250 x 2500 |
| SPM (min-1) | 10~30 |
| Maximum Blank Size (mm) | 1300 x 2200 |