Servo Motors
Series Development of the World's Most Powerful Class of Servo Motors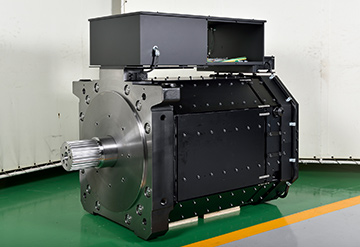 The world's most powerful class of 'low-speed, high-torque' servo motors that maintains full forming energy even at low speeds. Because the motor power is directly transmitted to the press drive components without going through a reducer, its robust power and precise motions combine to deliver unparalleled performance. AIDA servo motors are used on all its servo presses, which range in capacity from 80 tons to 3000 tons.
AIDA servo motors are not only used for presses, they are also used to supply the brawn needed for injection molding machines, construction machinery, and crushing machines.
With a low volumetric ratio, a small motor can output considerable power.
AIDA servo motors can be connected to commercially available Mitsubishi, Yaskawa, Nikki Denso, Bosch-Rexroth , Rockwell Automation, Hitachi Industrial Equipment Systems and REJ (Former Reliance Electric Limited) drives.
A built-in energy management system suppresses peak electrical power.
We provide comprehensive servo packages--from the power supplies and amplifiers to the motion control software.
With our wide range of servo motor products, we can provide the optimal motors to meet our customer requirements.
Servo Motor Design
Usage Examples
Friction Testing Machine

Servo Motor Model: A-5960E (110kW)
Servo Press

Servo Motor Model: A-8870E (500kW) cooled by axial fans
Servo Press

Servo Motor Model: A-8870E (500kW)
Cooled by a squirrel-cage fan.