Retrofits / Modernization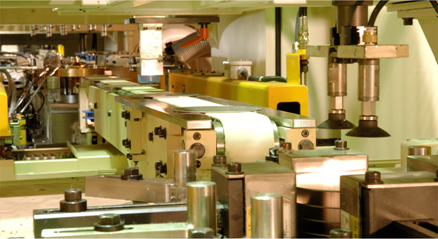 Upgrading
Increase Productivity by Adding or Upgrading A Quick Die Change System!
Improve productivity by shortening die change and setup times!
Add Hydraulic Die Lifters and Die Clampers
Change to die clampers to eliminate manual tightening, and change from manual clampers to automatic traveling clampers.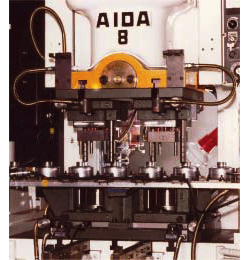 Add a Die Change Cart
Reduce die change times on small and midsize presses by adding a die change cart.
Add Moving Bolsters
Upgrade from 1 moving bolster to 2 moving bolsters.
Convert from front and rear moving bolsters to cross-linked configurations that can accommodate additional moving bolsters.
Shorter bolster change times thanks to improved controls.
Example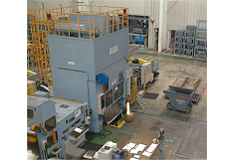 Increase Productivity by Upgrading to a New Coil Feeder Model
Dramatically improve material yield by upgrading to a zigzag feeder.
The bulk of press-forming costs are in the material cost, and you can achieve dramatic cost reductions by improving the material yield.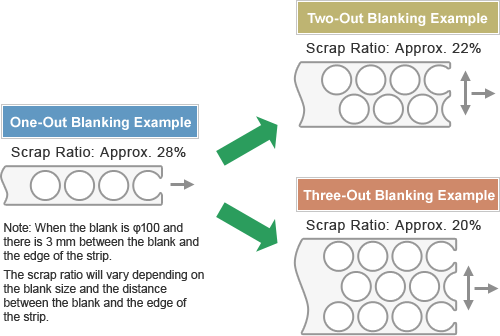 AIDA offers the zigzag feature as an option on all its feeder series.
NC Roll Feeders
F-20III, F-30III, F-40III
Straightener Feeders
LFL-300E-Z, LFL-300R-Z
LFM-400E-Z, LFM-400R-Z
LFG-400E-Z, LFG-400R-Z
LFG-600E-Z, LFG-600R-Z
Upgrade General-Purpose Press Operation & Control Panels!
Before
Contact circuits consisting primarily of relays.
After
Replaced with the latest E-Series controls.
Benefits
(1)Greatly enhances the safety of C1 and C2 Series presses too! Adds clutch & brake circuit monitoring and overrun monitoring, and uses a ground-fault breaker in the control circuit.
(2)Contributes to improved reliability and maintainability and reduces downtime. And it is equipped with high-reliability parts and high-vibration resistant devices that are mounted in locations that are easily accessible for maintenance.
(3)Improves operability and workability. Uses interlock lamps and easy-to-use pushbuttons.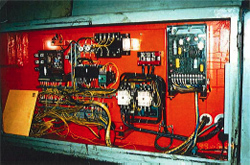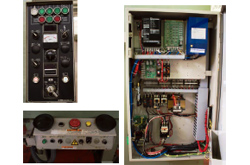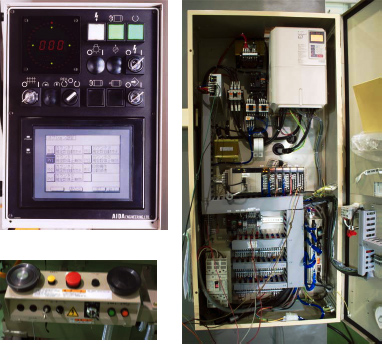 Greatly Increase the SPM of Existing Robot Lines!
Just replacing your turnover device with a high-speed servo model can increase your production by over 10%!
You can choose between an MT-2S or an MT-3S!
Examples
When using an MT-3S with an A-8II(1200 mm stroke) and an NC1-2000(2) press
Current 14.8 spm ( Increase to 16.8 spm = 14% jump in productivity
When using an MT-3S with an NCTHL (1400 mm stroke) and 4 NC1-2000(2) presses
Current 12.8 spm ( Increase to 14.3 spm = 12% jump in productivity
Servo Transfer
Upgrade from A Mechanical Transfer to A Servo Transfer!
You want to upgrade = your annual maintenance costs are rising!
This will eliminate those costs.
You want to boost functionality
Accommodate Product Changes
By converting from 2-D motion to 3-D motion:

・Reduce die costs.
・Enables the easy transfer of parts with complex shapes.
Each feed, clamp, and lift stroke is variable.
Allows the optimal transfer conditions for each product.
Enables variable feed and clamp timing adjustments.
Die interference ranges can be adjusted.
Increase Productivity
Select optimal values for the feed, clamp, and lift strokes and their timing.
Increased speed (SPM).
Enables independent operation of the transfer feeder, which makes for easy finger adjustments.
Reduces setup times.
Change to 3-segment feed bars.
Enables outside setup of the fingers.
Standardize Work and Create Standard Procedures
Each stroke and its timing is digitized and can be saved in the job data bank.
Makes for easy standardization and procedure creation.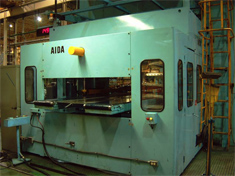 Enhance Safety
Switch from a Single Solenoid Valve to a Double Valve for the Clutch and Brake!
Modification Details
Switch from a single solenoid valve to a double valve for the clutch and brake.
Benefits
Marked improvement in safety!
The clutch and brake solenoid valve is the most critical safety-related part on a mechanical press, and switching to a double solenoid valve reduces the probability of an injury accident due to a solenoid malfunction to almost zero.
With a dual solenoid valve with monitoring, if a solenoid valve actuation malfunction is detected the press start circuit is cut and an indicator lamp comes on, making it easy to diagnose and repair the problem.
Implementation Examples
Before
After
After
Option
Safety is improved even more when it is coupled with an overrun prevention device.
Enhance Safety by Adding Die Blocks (with Safety Plugs)!
Modification Details
Add die blocks (with safety plugs).
1 die block set (including a safety plug) is provided for gap frame presses and 2 sets (standard) are provided for straightside presses, and they are mounted on the bed or on the columns.
Benefits
Marked improvement in safety!
Makes die maintenance and adjustments safer when the die block is inserted between the slide and bolster.
Because the die block supports the slide, it prevents major accidents resulting from counterbalance air pressure leaks and brake malfunctions that could cause the slide to drop from its own weight.
Removing the safety plug connected to the die block cuts the press operation circuit and prevents inadvertent operation by a 3rd party.
Implementation Examples
Options
Lightweight high-load FRP (fiberglass reinforced plastic) blocks are also available for large presses.
Preventive Maintenance
Upgrade Large Control Panels!
Before
Uses relays and obsolete PLCs that have been phased out of production
After
Replaced with the latest PLC control circuit.
Benefits
Welded contacts & malfunctions caused by old relays are reduced, improving reliability and reducing down-time.
Using the latest PLC means that spare parts can be quickly delivered, which will reduce downtime.
Example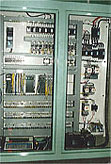 ---