Routine inspection
(Power Press Voluntary Inspection)
Trust AIDA to Service Both AIDA and Non-AIDA Equipment
An AIDA Inspection is Unique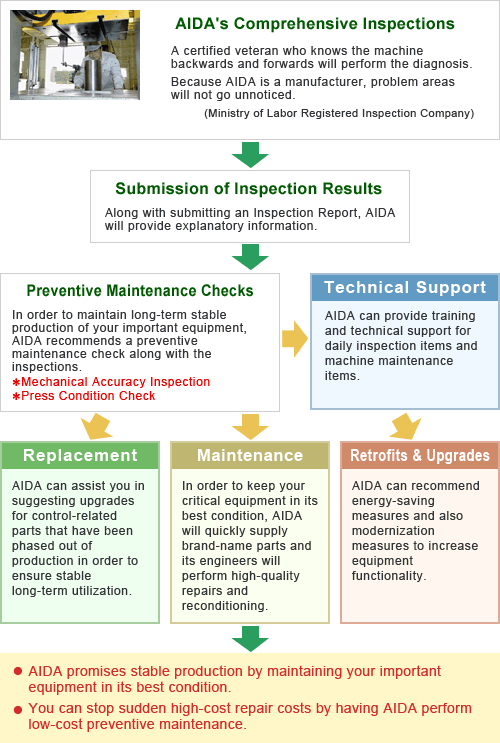 Preventive Maintenance of Metal Forming and Fabricating Machines
Failure to perform proper maintenance may cause your machine to unexpectedly stop and hinder your production.
Periodic maintenance will ensure safe performance of machines for extended periods of time and minimize any occurrence of failure.
Principles of Preventive Maintenance
Electrical Parts
Be sure to replace electrical parts such as relays, switches, motors, electromagnetic valves and emergency stop buttons with only those parts designated by the manufacturer.
Mechanical Parts
Be sure to replace mechanical parts such as clutch brakes, couplings for encoders, O-rings, V-belts and lubricating oils with only those parts designated by the manufacturer.
Are you familiar with "The Bathtub Curve" as a rule-of-thumb to estimate the service life of your machine?
Perform the statutory "Pre-Operation Inspection" to detect any abnormalities and take early countermeasures as required.
Every part has a service life. Be sure to perform daily inspections and maintenance in order to lengthen the effective preventive maintenance period.
It is important to replace parts before the expiration of their "Recommended Replacement Interval" which is provided by the manufacturer as a rough estimate of the service life of their parts.
---